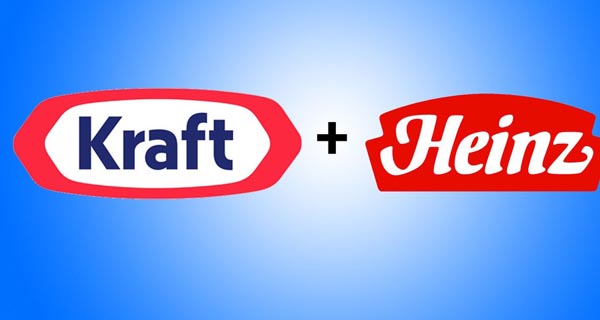 The Kraft Heinz Company è ora una realtà. L'approvazione della fusione da parte degli azionisti di Kraft Foods dà il definitivo via libera all'operazione nata a marzo con la proposta lanciata da H.J. Heinz, che delle due entità è quella che "compra". Nasce così ufficialmente un colosso da 29,1 miliardi di dollari di fatturato aggregato (dati 2014), ovvero 26,2 miliardi di euro, somma dei 10,9 miliardi di dollari di fatturato di Heinz, cui si aggiungono i 18,2 miliardi di Kraft. La proprietà sarà per il 51% dei soci di Heinz, ovvero la Berkshire Hataway di Warren Buffet e il fondo a capitali brasiliani 3G Capital, che rilevarono qualche anno fa la società pariteticamente. Sarà quotata alla borsa di New York.
La nuova società, lo dimostra il fatturato, sarà un big mondiale del food & beverage: nella speciale classifica per ricavi in euro (bilanci 2014) si posiziona direttamente al settimo posto che vede in testa Nestlè con 91,6 miliardi di franchi svizzeri (85,8 miliardi di euro), PepsiCo con 66,7 miliardi di dollari (60 miliardi di euro), Ab Inbev con 47 miliardi di dollari (42 miliardi di euro), The Coca-Cola Company con 45,9 miliardi di dollari (41,3 miliardi di euro), Jbs con 120,5 miliardi di Real brasiliani (34,9 miliardi di euro), Mondelez Internazional con 34,2 miliardi di dollari (30,8 miliardi di euro).
Sono arrivate subito le nuove nomine di vertice: l'amministratore delegato del nuovo colosso sarà il brasiliano Bernardo Hees, già a capo di Heinz, mentre a capo delle operazioni europee ci sarà Matt Hill, anch'esso di derivazione del colosso del ketchup. Molte le fuoriuscite tra il management di Kraft, com'era lecito attendersi. Nei prossimi 2 anni la società procederà a tagli di costi per 1,5 miliardi di dollari: uno sforzo decisamente importante ma in linea con l'operatività di 3G capital, nota nel mondo per la capacità tagliare all'osso le spese. Quando acquisì Heinz taglio 7400 pusti di lavoro e chiuse 5 stabilimenti produttivi.
In parallelo alla ridefinizione dei costi partirà anche la revisione delle ricette e dei prodotti: lo aveva lasciato intendere lo stesso Warren Buffet lo scorso marzo mentre illustrava l'operazione: l'Oracolo di Omaha aveva esplicitamente parlato di una sfida salutistica per le grandi multinazionali del cibo, che non può essere ignorata perché arriva da richieste molto precise dei consumatori. La nuova conglomerata agirà in questo senso, è il parere di alcuni analisti americani che hanno commentato l'operazione.
© Riproduzione riservata