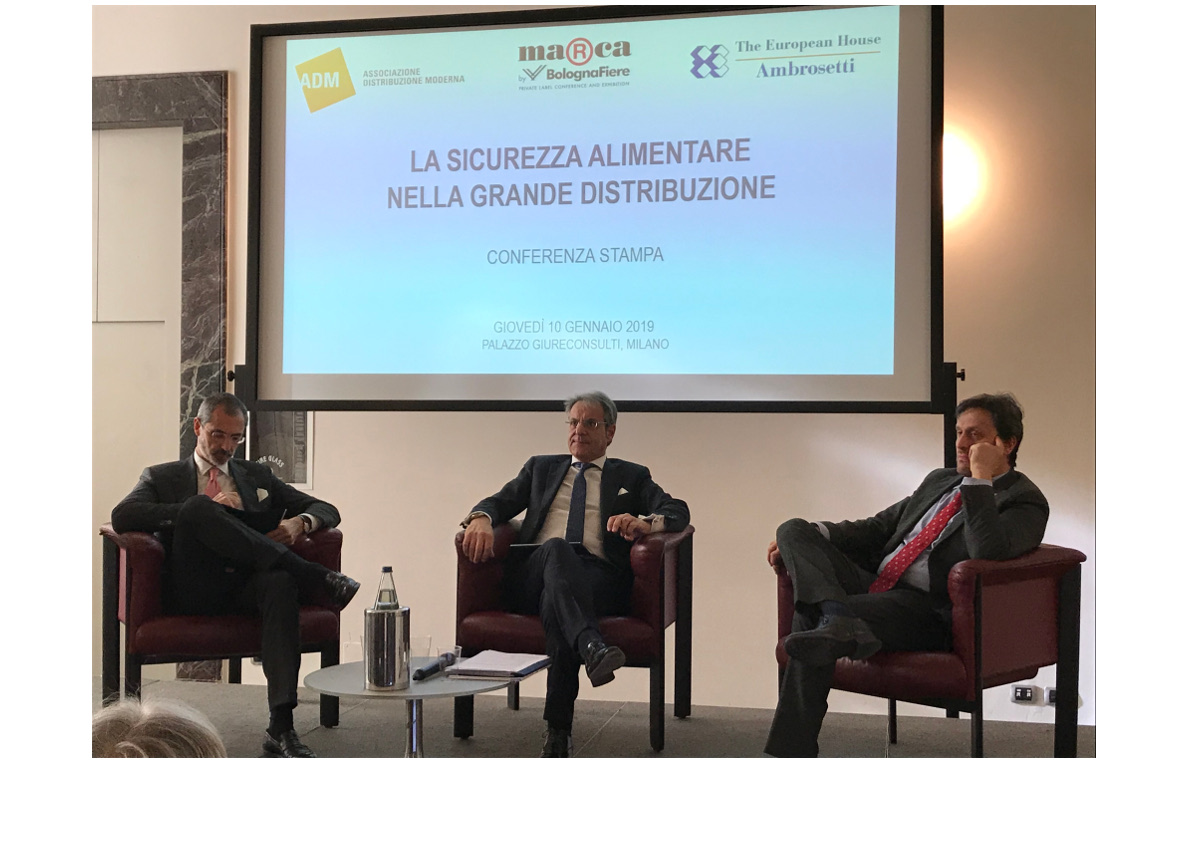 Giorgio Santambrogio, Presidente dell'Associazione della Distribuzione Moderna (Adm), si è dato un obiettivo: far diventare Marca qualcosa in più e di diverso da una fiera di settore, peraltro molto apprezzata e assurta ormai a punto di riferimento nel comparto della marca del distributore. L'idea è rendere la due giorni bolognese un evento culturale, che faccia anche informazione sul mondo della Mdd. Un progetto ambizioso, che si sta snodando attraverso tappe precise, affrontate con la collaborazione della società di consulenza The European House – Ambrosetti, che in occasione dell'edizione 2019 della fiera – la 15ª, in programma il 16 e il 17 gennaio nel quartiere fieristico di Bologna – presenta un position paper dedicato alla sicurezza alimentare nella grande distribuzione. A dire il vero l'approfondimento di tematiche attinenti il fenomeno Mdd visto da molte angolature, così come l'analisi strategica del rapporto tra copacker e retailer, fanno parte della storia di Marca, che ha sempre proposto appuntamenti convegnistici interessanti e ben documentati. Ora però è più evidente la volontà di far risaltare il ruolo della marca del distributore per il sistema produttivo ed economico italiano, come dimostra l'utilizzo a partire dallo scorso anno del modello dei 'Quattro Capitali' sviluppato da Ambrosetti, e il desiderio di ampliare la platea di destinatari del messaggio: non più solo gli addetti ai lavori, ma anche il grande pubblico. Di qui probabilmente la scelta di un tema sensibile – e di conseguenza spendibile in contesti di comunicazione variegati – qual è la sicurezza alimentare.
SICUREZZA ALIMENTARE: IL SISTEMA DEI CONTROLLI
Ma cosa fa la Gdo italiana per garantire la sicurezza di ciò che mettiamo nel carrello della spesa? Tanto, verrebbe da dire scorrendo i dati che Valerio De Molli, Managing Partner e Ceo di The European House – Ambrosetti, ha presentato nel corso di una conferenza stampa. Un po' per scelta – il 100% delle insegne adotta certificazioni volontarie, con circa 2.000 controlli all'anno sulle aziende di copackaging e di fornitura dei freschi e freschissimi – e molto per tener dietro al complesso ecosistema che vigila sulla sicurezza alimentare in Italia. Un reticolo di soggetti e competenze mappato da Ambrosetti e che vede coinvolti 4 Ministeri (Ministero della Salute, Ministero delle Politiche Agricole, Alimentari, Forestali e del Turismo, Ministero dell'Economia e delle Finanze, Ministero dell'Ambiente e della Tutela del Territorio e del Mare ) e ben 21 tra organi, enti e autorità. Con il paradosso – raccolto da Stefano Crippa, Direttore Area Comunicazione e Ricerche di Federdistribuzione, e raccontato dal Presidente Santambrogio – di un punto vendita che può essere multato dai Servizi Veterinari per aver esposto i mitili al di fuori dei banchi frigo, e poi, una volta rimessi i molluschi nei banchi frigo, multato dai Nas per maltrattamento di animali.
LE VERIFICHE NEI PUNTI VENDITA
Casi limite a parte, i controlli rappresentano una garanzia per il consumatore e sono ben 143.000 quelli effettuati dalle autorità competenti nei punti vendita della distribuzione moderna (una media di 5/6 all'anno per punto vendita vs 0,3 per un piccolo esercizio commerciale). Circa 100.000 verifiche ispettive sempre nei punti vendita della distribuzione moderna sono commissionate a enti terzi, a fronte di 2,3 milioni di test sui prodotti e superfici di lavoro pianificati anche in autocontrollo. Il 100% delle insegne ha uffici di qualità e sicurezza interna e mentre dieci anni fa la maggioranza dei responsabili di queste strutture – che nelle insegne più grandi contano fino a 50 collaboratori – riportava al Direttore Commerciale oppure al Direttore Marketing, ad oggi 4 su 5 riportano direttamente ai vertici aziendali segnalando il salto di qualità in termini strategici della funzione sicurezza e qualità, divenuta autonoma e indipendente rispetto alla struttura commerciale. Inoltre il 70% delle insegne ha aumentato gli investimenti nella sicurezza alimentare, con una spesa annua che per alcune aziende può arrivare anche a 5 milioni di euro.
NELLA COMUNICAZIONE SI PUÒ FARE MEGLIO

"Apriamo il 2019 con un messaggio positivo per i consumatori, nostri clienti – ha detto Giorgio Santambrogio –. Il luogo più sicuro dove comprare prodotti alimentari è rappresentato dai punti di vendita della distribuzione moderna: qui possono infatti acquistare con fiducia ogni tipo di prodotto, ma soprattutto le marche del distributore, garantite da un sistema di controlli capillare ed approfondito, come dimostrato dal position paper di The European House – Ambrosetti. I prodotti a marca del distributore sono la nostra bandiera e abbiamo lavorato molto per assicurare qualità e sicurezza, e continueremo a investire in futuro". Lo stesso Santambrogio ammette però che si potrebbe – e dovrebbe – fare meglio nell'informare i clienti su quanto viene fatto a loro tutela. "Se comunicassimo l'impegno sul fronte della sicurezza alimentare tanto quanto comunichiamo il prezzo…" dice il Presidente di Adm. E anche da questo punto di vista, lo studio di The European House – Ambrosetti rappresenta un primo passo nella direzione giusta.
© Riproduzione riservata