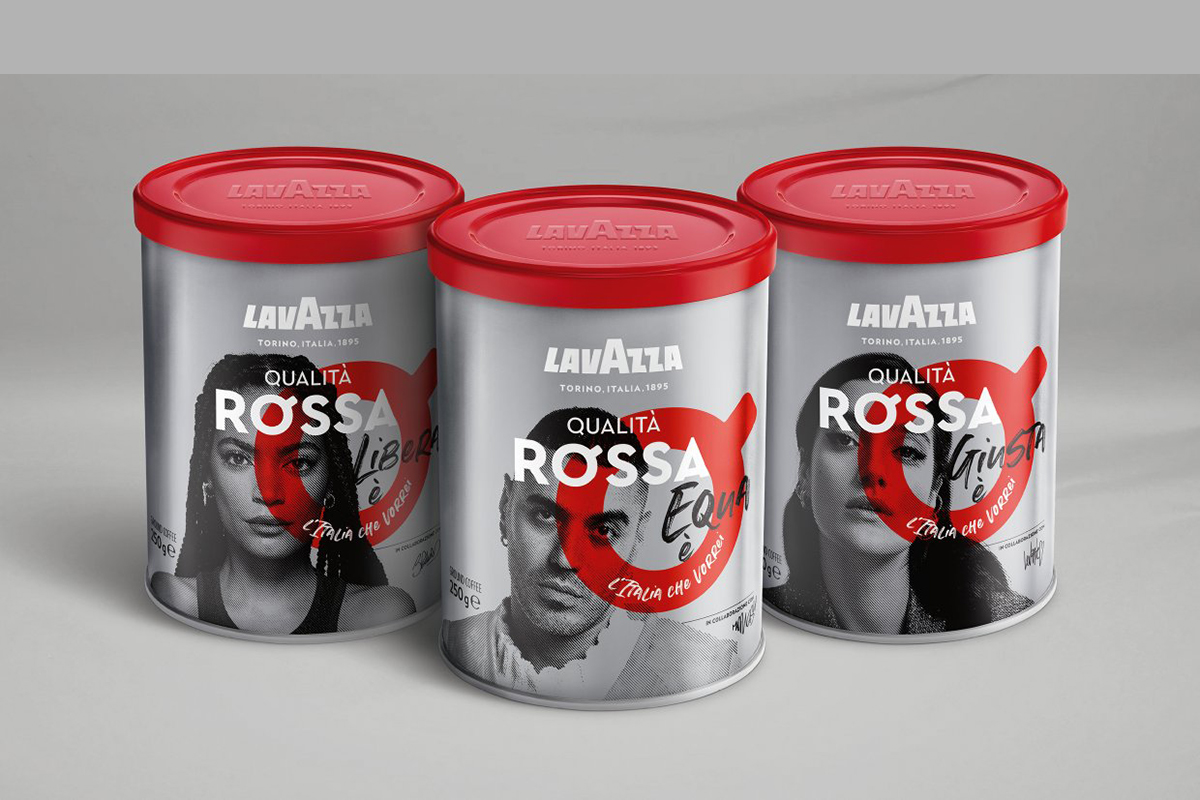 Lavazza ha presentato a Milano 'L'Italia che vorrei', il nuovo progetto con cui torna a celebrare il Paese in cui viviamo e il futuro che sogniamo per le prossime generazioni. Per Qualità Rossa, da oltre 50 anni uno dei brand icona del big player torinese, Lavazza ha scelto Marracash, Levante ed Elodie, tre artisti che parlano al cuore dei giovani, incarnando desideri, ambizioni e passioni di tutti gli italiani, per mostrare i valori di un'Italia in continua evoluzione. 
UN'ITALIA EQUA, GIUSTA E LIBERA
I nuovi testimonial sono chiamati a immaginare 'L'Italia che vorrei', un racconto condiviso di un'Italia equa, giusta e libera in cui far vivere le generazioni future. I tre talent firmano l'edizione limitata della miscela, ribadendo i messaggi di cui si fanno portavoce insieme al brand. Nella sua limited edition, il prodotto – disponibile per il consumo domestico in caffè macinato, grani e nelle capsule espresso Lavazza A Modo Mio – si apre attraverso a un dialogo diretto con il consumatore attraverso la piattaforma: www.lavazza.it/litaliachevorrei. Grazie a un concorso dedicato, sarà possibile assistere live o in streaming alle esibizioni di Marracash, Levante ed Elodie: tre appuntamenti previsti per l'estate 2023 in altrettante città italiane e dedicati esclusivamente ai fan di Qualità Rossa.
LA PARTNERSHIP CON SAVE THE CHILDREN 
Inoltre, in linea con valori e messaggi di Qualità Rossa, la collaborazione tra Lavazza e Save the Children ha dato vita a un impegno concreto rivolto ai ragazzi e alle ragazze di CivicoZero: la creazione di una 'Basement Room' nella sede di Roma dedicata alla realizzazione di podcast, dove gli adolescenti stranieri che frequentano il centro possono esprimersi, acquisire sicurezza in loro stessi, e avere a disposizione gli strumenti per trovare il loro posto in un'Italia equa, giusta e libera.
"Con questo progetto molto rilevante – afferma Igor Nuzzi, Region director Italia e Svizzera Gruppo Lavazza – puntiamo a rafforzarci nel target delle giovani generazioni, mantenendo stretto nel contempo il rapporto con i consumatori che da sempre scelgono Qualità Rossa. Un brand presente presso una famiglia su sei in Italia, che produce sul mercato nazionale circa due miliardi di tazzine all'anno e sviluppa un fatturato di oltre 110 milioni di euro sul modern trade italiano. Da sola, la confezione da 2x250g fattura 43 milioni di euro, confermandosi tra le prime dieci referenze del food confezionato".
© Riproduzione Riservata