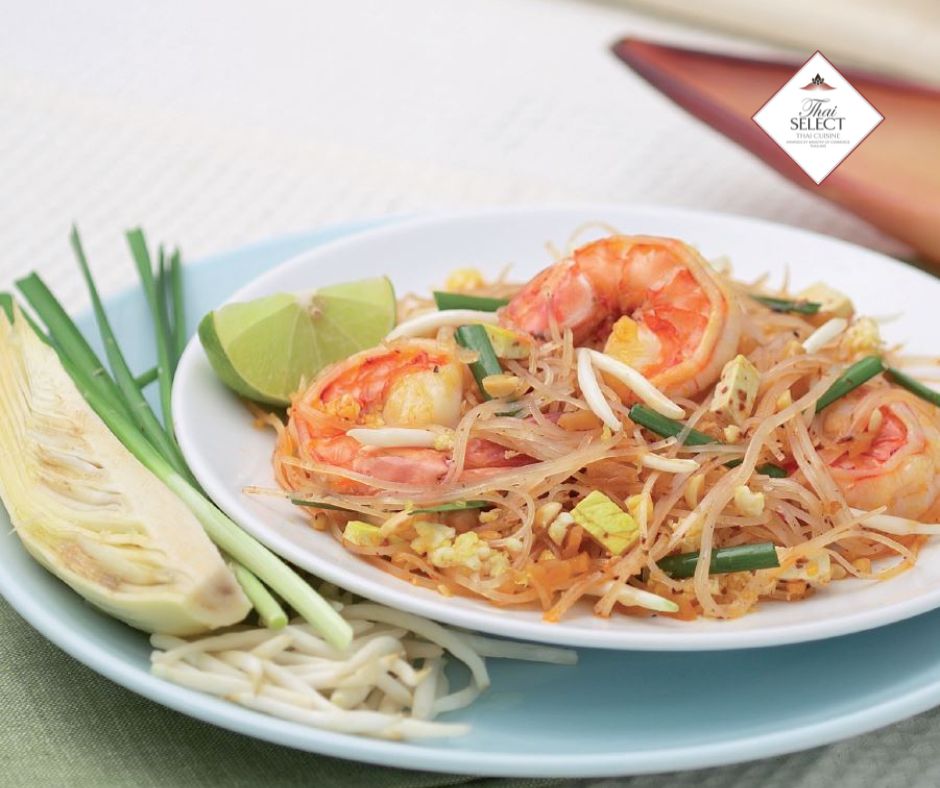 In occasione di Tuttofood 2023 (Fiera Milano, 8-11 maggio), il DITP – Department of International Trade Promotion, Ministry of Commerce of Thailand presenterà la "Cucina del Mondo", con la grande varietà di prodotti alimentari thailandesi che puntano a soddisfare le esigenze dei consumatori nel mercato europeo. Qualità e sostenibilità sono i trend dominanti del presente e del futuro del settore, nonché i driver di crescita su cui puntano anche le imprese thailandesi del comparto.
Per saperne di più, Food ha intervistato Anongnart Mahasawat, Direttore del Thai Trade Center di Milano.
Quali nuove tendenze e abitudini di consumo prevede? E come stanno rispondendo i produttori del suo paese ai trend globali?
"Durante la pandemia da Covid-19, la sicurezza alimentare è stata un nodo importante per l'industria globale. La catena di approvvigionamento ha forti restizioni sui prodotti la cui esportazione è limitata proprio per motivi di sicurezza alimentare. Gli effetti del conflitto russo-ucraino, che hanno indotto molti paesi a imporre politiche di restrizione sugli scambi di alcuni cibi hanno ulteriormente reso più complicato la situazione globale. Le attuali tendenze di consumo alimentare invitano le persone a prestare maggiore attenzione alla sicurezza alimentare, alla protezione e alle questioni ambientali. Anche i produttori di tutto il mondo ne sono consapevoli, e tengono presenti questi temi dando importanza al processo produttivo lungo tutta la filiera. Fin dall'acquisizione delle materie prime i processi di produzione devono essere standardizzati in considerazione delle principali questioni ambientali, come il risparmio energetico, la riduzione dei rifiuti e la produzione di imballaggi ecologici. Inoltre, la richiesta di Future Food è sempre più accellerata e anche questo rinforza il tema della sicurezza alimentare.
La Thailandia è una terra fertile e ricca di sapori e diversità: anche per questo è stata a lungo definita la 'Cucina del Mondo'. Produce molti prodotti agroalimentari – verdure, frutta, spezie, erbe, carne e frutti di mare – tutti di alta qualità e richiesti dai consumatori di tutto il mondo. Senza dimenticare i Future Food, tra cui i 'Novel Food', che la Thailandia produce in realtà già da decenni. Infatti, è pronta a soddisfare le esigenze dei tanti consumatori alla ricerca del food più innovativo. Inoltre la Thailandia sta puntando molto su sicurezza alimentare e sostenibilità. L'esportazione di prodotti alimentari ha consentito al nostro paese di guadagnare fiducia a livello internazionale sul fronte della qualità e degli standard dei processi produttivi".
Come si combinano i prodotti tradizionali del territorio con l'innovazione di prodotto e di processo?
"La Thailandia è uno dei maggiori esportatori di alimenti. Nel 2020, ha esportato cibo in tutto il mondo per un valore di circa 6,84 miliardi di dollari (24esimo posto nella classifica internazionale), e si prevede che aumenterà ogni anno di più la sua quota export. Da tempo gli imprenditori thailandesi hanno accelerato lo sviluppo di nuovi prodotti per soddisfare le esigenze dei consumatori di tutto il mondo. La Thailandia è anche un'importante base produttiva per brand di molti paesi sotto forma di Contract Manufacturing o OEM (Original Equipment Manufacturer); gli acquirenti, infatti, hanno fiducia nella qualità e negli standard di produzione. Il costante sviluppo di conoscenze a livello di ricerca ha portato la Thailandia a essere uno dei paesi più avanzati nell'innovazione alimentare, rendendola anche pronta ad aprirsi a investimenti e cooperazioni nel Future Food".
Sostenibilità e la responsabilità sono sempre più rilevanti nella percezione dei consumatori.
"Il 19 gennaio 2021 la Thailandia ha annunciato come agenda nazionale il BCG (Bio-Circular-Green Economy), un modello economico che punta allo sviluppo sostenibile in linea con i 17 Obiettivi di Sviluppo Sostenibile delle Nazioni Unite (Sustainable Development Goals-SDGs), con l'obiettivo di creare valore aggiunto lungo la catena del valore. Il Ministero del Commercio thailandese ha suddiviso il sostegno e la promozione di beni e servizi nel modello BCG: in particolare la produzione di alimenti 'del futuro', funzionali, medici, biologici, prodotti lifestyle e dell'impresa sociale (SE). Per questo, la partecipazione ad una fiera alimentare come Tuttofood è un'opportunità molto significativa per la Thailandia. Infatti ci consente di promuovere e creare consapevolezza, di fronte agli acquirenti e gli importatori di tutto il mondo, su qualità e standard dei nostri prodotti alimentari".
Cosa vi aspettate dalla vostra partecipazione a Tuttofood 2023? Su quali mercati internazionali vi state concentrando? E che tipo di buyer pensate di incontrare a Milano?
"Il Dipartimento del Commercio Internazionale (DITP) riconosce Tuttofood 2023 come una fiera alimentare internazionale di fama mondiale. È la destinazione naturale per i buyer e gli importatori di tutto il mondo. In particolare per il mercato europeo, che conta oltre 700 milioni di persone ed è il nostro obiettivo principale per questa edizione. Partecipando a Tuttofood 2023 il DITP intende presentare la 'cucina del mondo' con una varietà di prodotti thailandesi in grado di soddisfare in primo luogo le esigenze dei consumatori europei. Inoltre, promuoviamo gli imprenditori thailandesi pronti a esportare fornendo importanti certificazioni, che possano garantire qualità e standard di produzione. Tra questi vanno citati Thai SELECT e Thailand Trust Mark.
Il primo riguarda i prodotti alimentari tailandesi autentici che sono stati preparati in stile tradizionale, facilmente riconoscibili lungo quattro filoni:
Cibi pronti da mangiare e da cucinare, con o senza carne, verdure o riso;
Salsa e condimenti;
Dessert pronti per il consumo o per la cottura;
Pasta di curry.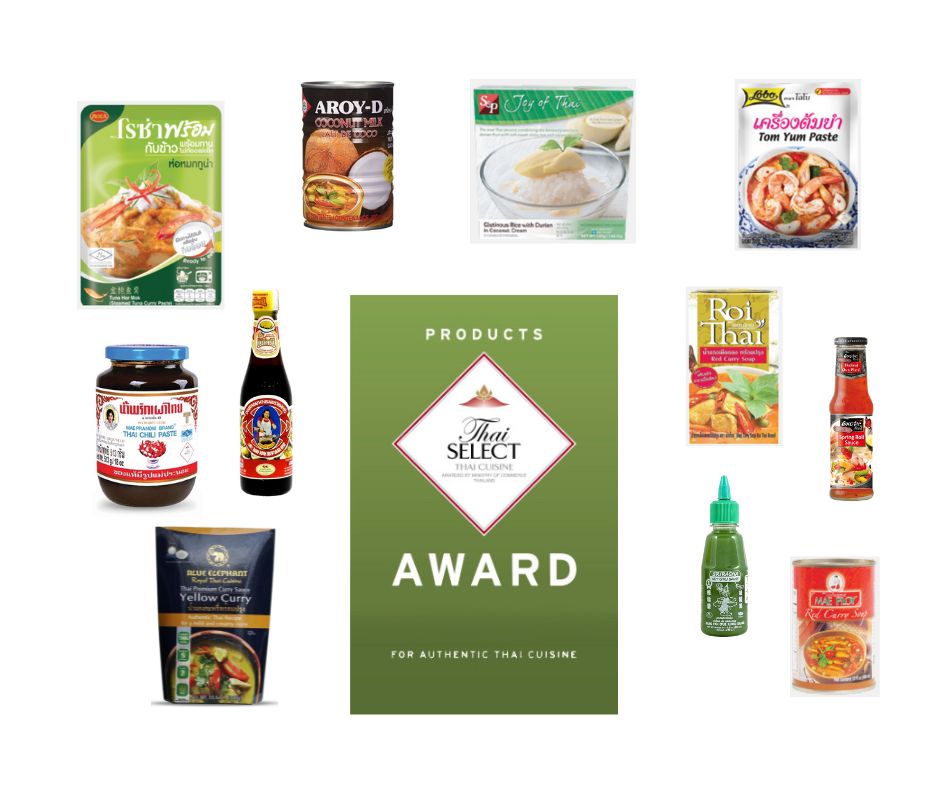 Attualmente, sono 603 gli alimenti thailandesi di 54 aziende che hanno ottenuto il logo Thai SELECT. Ad esempio, la salsa Pad Thai, la salsa chili Sriracha, la salsa per involtini primavera, la pasta di curry verde, la zuppa di curry Massaman pronta per il consumo, la pasta Tom Yum, ecc… Per quest'anno è previsto un aumento del numero di prodotti che avranno questa certificazione. Il DITP l'ha infatti assegnata anche ai ristoranti thailandesi all'estero, per garantirne gli standard di qualità in termini di autenticità dei sapori e pulizia. Attualmente in Italia vi sono 11 ristoranti thailandesi che hanno ottenuto il logo Thai SELECT, e si prevede che aumenteranno nel prossimo futuro.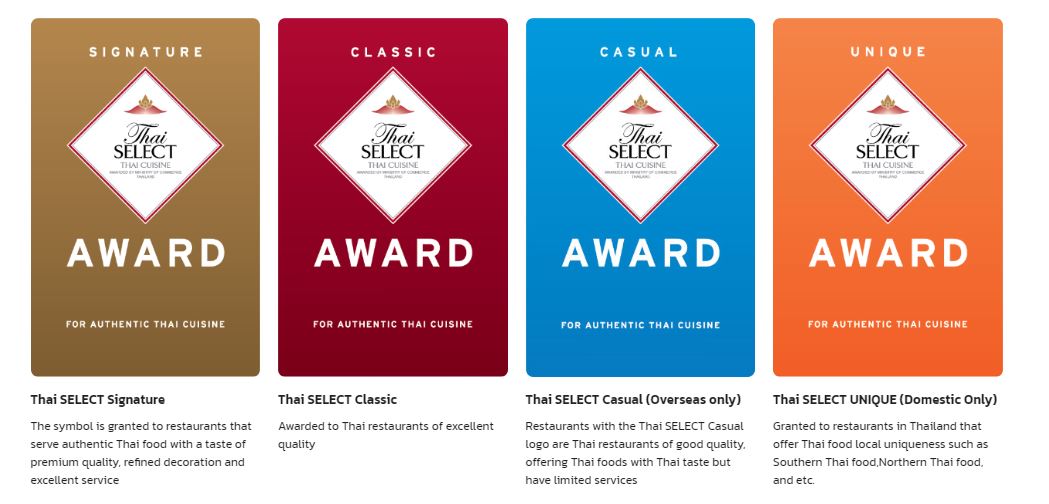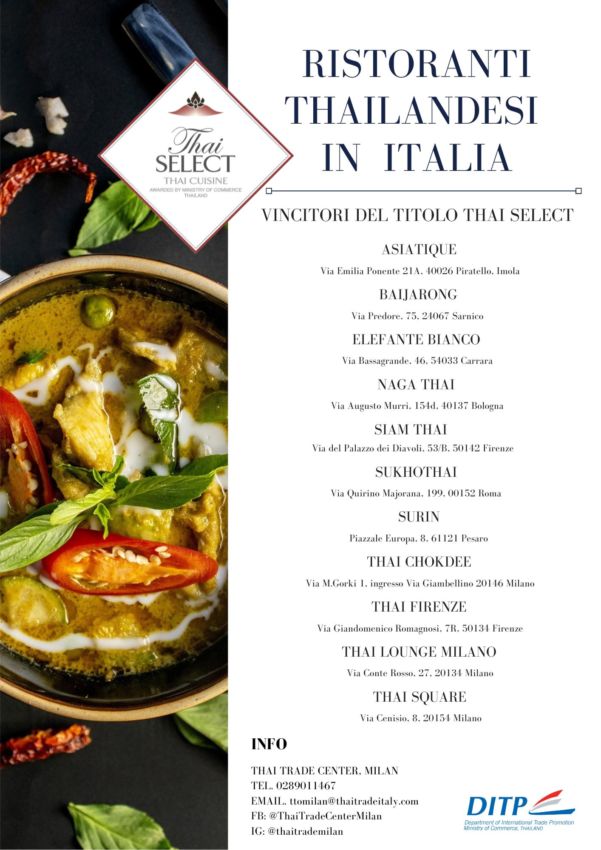 Il Thailand Trust Mark è un simbolo di eccellenza e di qualità, istituito per aggiungere un valore distintivo ai prodotti realizzati in Thailandia. Attualmente abbiamo 1.333 prodotti certificati dal Thailand Trust Mark, 511 dei quali nel comparto food&beverage".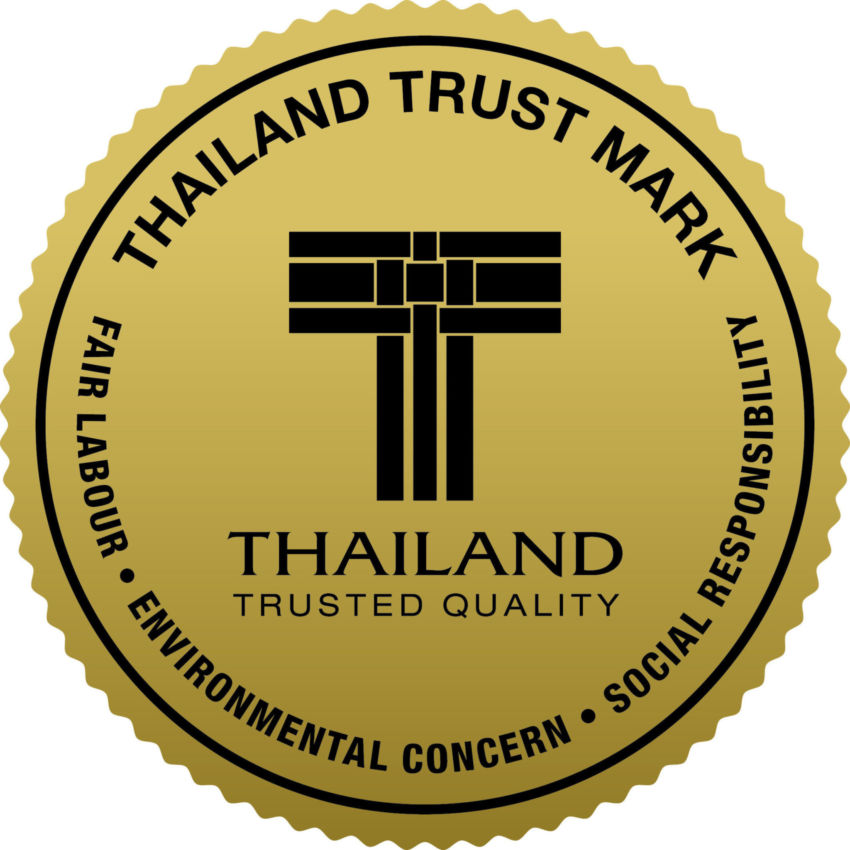 Per avere una visione più completa dell'offerta dell'Industria del Food thailandese invitiamo i buyer a visitare la Fiera Thaifex organizzata in collaborazine con Anuga che si terrà dal 23 al 27 maggio prossimo a Bangkok.
Nel frattempo vi aspettiamo presso il nostro stand a TUTTOFOOD 2023 dall' 8 al 11 Maggio presso il Padiglione 1 Stand E22.
© Riproduzione riservata