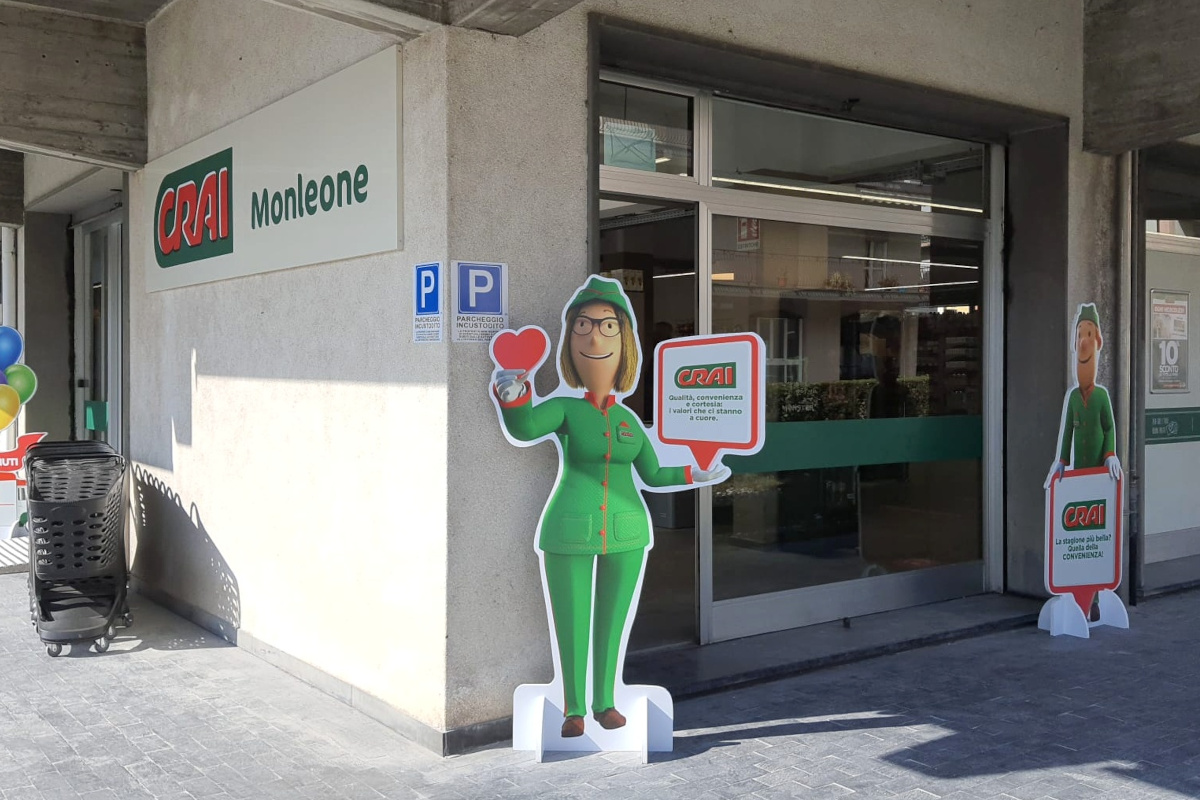 A quasi otto mesi dalla nomina a Presidente di Codè Crai Ovest, Michele Poliseno ha tracciato un bilancio dei risultati presentando il nuovo piano strategico della cooperativa della Gdo che oggi conta più di 300 punti vendita nell'Italia Nord occidentale.
NUMERI E GOVERNANCE
Cresce il fatturato 2022, che tocca i 320 milioni di euro rispetto ai 310 del 2021; ottima la previsione per il 2023, che prevede di salire a 340 milioni. Il piano di sviluppo triennale da oltre 10 milioni di euro all'anno è stato confermato; si punta a 45 nuove aperture entro il 2023, in particolare in Lombardia e Liguria, con circa 200 assunzioni.
Come scelta strategica di governance, è stata introdotta una nuova figura direzionale: il Direttore commerciale Antonio Muggianu. La sua attività si concretizza nel riposizionamento dei prezzi, in modo da garantire massima qualità del prodotto a costi contenuti, nella valorizzazione delle produzioni locali, e nell'aumento dei servizi al cliente volti a rendere sempre più attrattivi e competitivi i supermercati Crai.
RIDUZIONE DEI CONSUMI E SOSTENIBILITÀ
Per fare fronte all'aumento generale dei costi, la cooperativa ha attivato una politica energetica che consiste in una forte riduzione dei consumi (-20% entro fine 2023) grazie all'impianto fotovoltaico di prossima costruzione e al nuovo impianto di riscaldamento con pompa di calore della sede centrale di Leinì (TO). In diversi punti vendita di Piemonte, Liguria, Lombardia e Valle d'Aosta sono previsti il rinnovo dei negozi in chiave sostenibile e il rinnovamento degli impianti frigoriferi (che da solo permette un risparmio di quasi il 50% sul singolo capitolo di spesa).
Per sostenere i soci, l'azienda ha previsto in ogni punto vendita la visita di professionisti in grado di studiare un piano personalizzato di migliorie da attivare subito, nell'ottica di ridurre i costi e aumentare l'efficienza. Per una sempre maggiore sostenibilità ambientale sono state attivate anche diverse iniziative che riguardano la riduzione dell'uso della plastica: tra queste l'eliminazione dei porta prezzi, l'introduzione di carrelli in plastica riciclata e l'istallazione di eco-compattatori di bottiglie.
WELFARE
Tutti i dipendenti della sede centrale così come i soci dei supermercati affiliati sono il cuore pulsante del progetto di Codè Crai Ovest. È prevista una valorizzazione del capitale umano che passi attraverso la riorganizzazione interna di compiti e mansioni secondo preferenze e attitudini personali, per rendere i dipendenti sempre più consapevoli della loro rilevanza all'interno della cooperativa e per dar loro la possibilità di crescere a livello professionale e umano, al fine di garantirne una maggiore soddisfazione e produttività.
I soci gestori dei supermercati trovano nella cooperativa un punto di riferimento e guida grazie a vademecum, consulenze e strumenti pratici in grado di supportarli in tutte le fasi della gestione dell'attività.
DIGITALIZZAZIONE E SERVIZI AL CONSUMATORE
Anche le innovazioni digitali di Codè Crai Ovest vanno nell'ottica del risparmio e della lotta allo spreco alimentare, con l'introduzione di due app mobile – Last Minute Sotto Casa e To Good To Go – che supportano commercianti e clienti in una spesa sempre più consapevole, economica e senza sprechi.
Tra i servizi al consumatore, il rafforzamento della collaborazione commerciale con Deliveroo e UPS per la spesa a domicilio, il servizio di pagamento bollette e la possibilità di utilizzo dei buoni pasto.
"Sono molto soddisfatto del bilancio di questi primi otto mesi di lavoro", dichiara Poliseno. "L'idea è quella di proseguire nella crescita redditizia mettendo clienti e personale al centro del nostro modello di business. In un piano di sviluppo che punta sui prodotti del territorio e su un rapporto di fiducia tra cooperativa e soci e con i nostri clienti, non può mancare un aiuto concreto con una politica dei prezzi che tenga conto del periodo di crisi che tutti stiamo vivendo. Per essere competitivi con le grandi insegne senza rinunciare alla qualità del prodotto stiamo investendo con convinzione nei prodotti a marchio, che coniugano eccellenza e prezzo contenuto".
© Riproduzione riservata